SYNOPSIS:

This book review of

Education, Counseling and Healing With Nature

, by Michael J. Cohen, Ed.D., Ph.D., describes a funded Mother Earth sensory science in action. It offers an organic psychology tool for sanity that helps us improve Earth's and our health wellness and relationships by enabling our thinking and feeling to safely tap into the nature's grace, balance and restorative powers. Participants benefit from, and strengthen, their inborn love of nature as they master alternative therapist coaching, stress release management and holistic spiritual psychology.



PROGRAM DESCRIPTION:


Educating Counselling and Healing With Nature

Supportive Degrees, Career Training Courses and Jobs On Line

Project NatureConnect offers nature-centered distant learning that enables you to add the benefits of nature-connecting methods and credentials to your degree program and/or your skills, interests and hobbies.

We honor your prior training and life experience by providing grants and equivalent education credit for it.

You may take accredited or professional CEU coursework and/or obtain a Nature-Connected Degree or Certificate in most disciplines or personal interests. A partial subject list is located at the bottom of this page.

Improve your income and satisfaction through independent, interdisciplinary or integrated study and Ecopsychology.
Help people connect their thoughts and feelings with the self-correcting and renewing ways of nature.
Increase personal social and environmental well being.
Add the self-correcting sunlight beauty and spirit of the natural world to your life and community. In natural areas, the truth is free and shares nature's wisdom
Visit our Homepage for complete information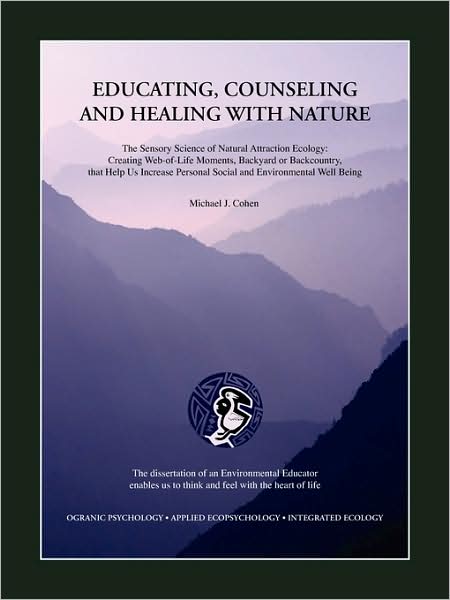 Book Description



We hold these truths to be self-evident:



Think of at least one good experience that you have had in nature: backyard or backcountry; mountain, forest or field; brook, ocean or shoreline; pet, garden or aquarium.


-Try to remember colors, sounds, aromas, textures or flavors that might have been part of the experience.
-Did your contact with nature contain comforting motions or attractive feelings of community, trust or place?
-Did you feel this visit was enchanting, self-enhancing or spiritually pleasing?
-Was it supportive, peaceful or both? Did it help you clear your mind?


-Did you feel renewed or purified, or that you were part of a greater whole or being. Did you feel you belonged?


These are some of the results that many individuals, especially left-handers, have reported from remembering valuable experiences in nature, experiences they would welcome repeating. Many have conveyed that they did not need a teacher, class or book to teach them to have an attractive nature experience; its qualities seemed to be innate, some could remember wonderful experiences from early childhood.

We hold these truths to be self-evident.



Discover a new, scientific, web-of-life, therapy experience: how a nature-connected, holistic, sensory ecology for health and wellness improves our critical thinking, feeling and well-being. Explore why and when our psyche benefits from the grace of nature's balance and renewing powers. Learn a "left-handed," outdoor Ph.D. ecopsychology model, how Earth communicates with us through 53 empirical natural senses and sensitivities and gives us our loves for spirituality, community, reason and trust; consciousness, beauty and music.

We are swimming in the global ecosystem, the higher power spirit and heart of our lives. Master nature-connected ecotherapy to remedy Industrial Western Society's prejudice to suppress our biological inheritance, to subdue our instincts to communicate with our planet. Apply a therapeutic, experiential education remedy for our destructive greed, stress, depression and excessiveness problems. Use and teach this antidote for our abusiveness and chemical dependency relationships. They demonstrate that we are part of nature. They help us to know our true natural self, the self that our socialization by Industrial Society has trained us to habitually remove from our awareness. It is this loss to our psyche and thinking that underlies our destructive excessiveness and disorders.



Read or download this book online, or obtain a complementary copy of it, at

http://www.ecopsych.com/ksanity.html



Education, Counseling and Healing With Nature


The Sensory Science of Natural Attraction Ecology: Creating Web of Life Moments, Backyard or Back Country, That Help Us Increase Personal, Social and Environmental Well Being.



This dissertation of an Environmental Educator enables us to think and feel with the heart of life.



ORGANIC PSYCHOLOGY, APPLIED ECOPSYCHOLOGY, INTEGRATED ECOLOGY

This book is free, while supplies last,

or always available by making a donation to our scholarship fund

<nature@interisland.net>.

A publishable book review may be obtained at
http://www.ecopsych.com/ksanity.html#anchorreview




This page is dedicated to Sunnyside Gardens, left handed people, Algernon Black and Hamilton-Madison House of the New York Ethical Society.




Act now. Master Organic Psychology by doing it.
Explore it from our homepage

Contact us at 360-378-6313 <nature@interisland.net>


Achieve a Degree or Certificate to strengthen your professional interests, or your hobbies or pastimes, by connecting them with nature. Implement your strongest hopes as you increase personal and global well being.

Topics, subjects or leisure pursuits can include those listed below or other areas of interest: